Two-weight world champion Claressa Shields insists she is the game-changing female fighter that boxing has been waiting for.
The double Olympic champion boasts a perfect record from six professional contests in the paid ranks, and can add the WBC belt to her IBF and WBA middleweight titles when she fights Scotland's Hannah Rankin in Kansas, live on Sky Sports Action this weekend.
Another win for Flint fighter Shields will put her on course to challenge Germany's undefeated WBO champion Christina Hammer for the right to become undisputed middleweight champion.
Shields, who is targeting a unification showdown with Hammer early next year, is determined to become a global superstar and wants to be regarded as the instantly-recognisable face of women's boxing.
"Every fight, I feel like I'm showing them [the public] the best of women's boxing," Shields told Sky Sports News.
"This is the highest level of women's boxing. The girls that I fight are the toughest, the most skilled, and we make great fights. I want them to see that I'm the best of them all, and there are levels.
"There are some girls who are tough, but then you have me, I'm tough, I'm skilled, I have a very good IQ. I'm fast and I punch hard.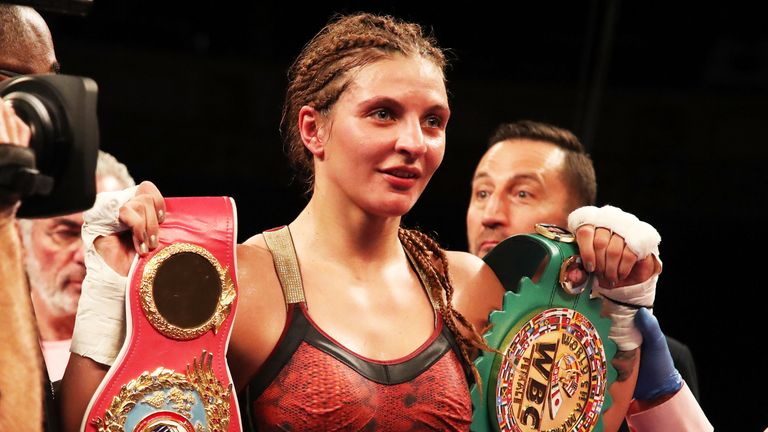 "I want them to see, when I box, they don't think like 'This is a woman fighter', they think 'This is a fighter in a boxing match'. They can leave and never forget that they've seen me fight.
"That's how I've always seen it. Fighting in the amateurs, the whole stadium used to go quiet, and everybody used to come to one ring. There used to be three rings going, and everybody would come to our one ring, just to watch me fight.
"I'm a once in a lifetime fighter. When anyone thinks about women's boxing, think about me."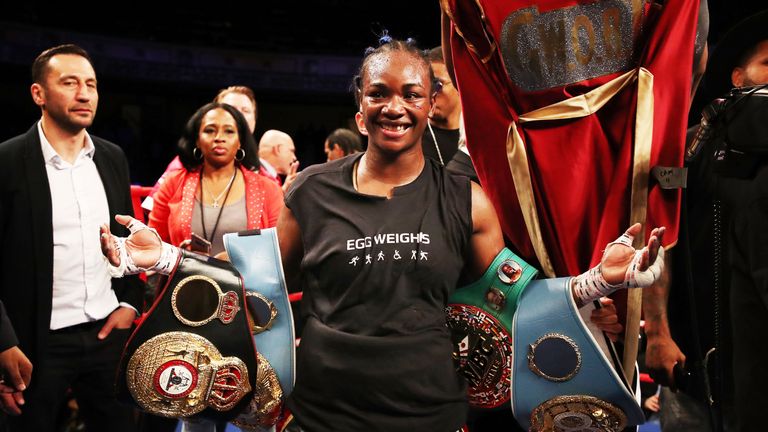 But Shields also wants to be recognised as a pound-for-pound queen and wants her fighting abilities to be judged alongside her male contemporaries.
"One of my goals is to make the pound-for-pound list, to make the top 10," she said.
"I really don't care what number. I just want to be top 10 somewhere. When they google who is the best woman fighter, ever, Claressa Shields' name will come up.
"I'm already in that conversation, but I want to be the name that everybody knows. That's my overall goal."