James Harden scored 30-plus points for the sixth time in eight games as the Houston Rockets beat the visiting Chicago Bulls 121-105.
Harden, with 9-for-16 shooting, finished 6-for-11 on 3-pointers, adding six rebounds and seven assists.
Clint Capela also recorded his eighth double-double in nine games as seven Rockets scored in double figures.
After the Bulls cut an 18-point deficit to four points in the third quarter, Harden responded with two treys plus an alley-oop pass to Capela that enabled Houston to reclaim an 80-65 lead.
The Bulls dropped their sixth consecutive game and sixth in succession in the overall series with the Rockets.
Zach LaVine led Chicago with 29 points on 11-of-17 shooting while forward Jabari Parker added 21 points and 12 rebounds.
Second-year forward Lauri Markkanen, slowed by a right elbow injury, made his season debut for the Bulls, posting 10 points in 25 minutes.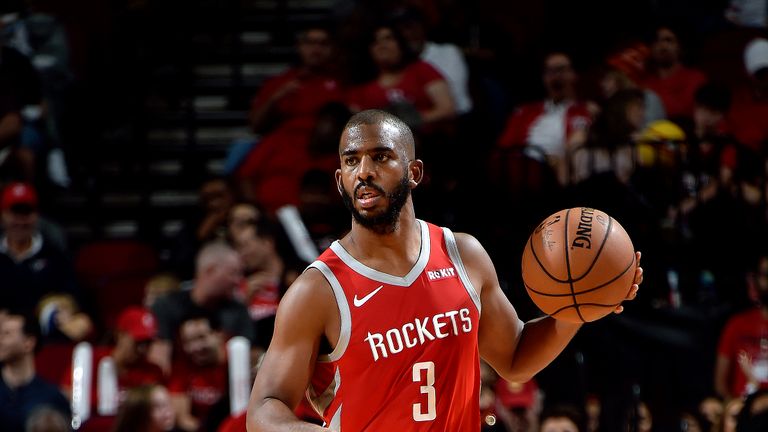 Capela chipped in 18 points and a game-high 15 rebounds while Eric Gordon scored 15 off the bench. Chris Paul also produced a double-double with 12 points and 13 assists for Houston.
The Bulls, last in the league in net rating as they have now lost 10 of 11 games, appeared primed for another blowout loss in the first quarter.
Houston cashed in a number of opportunities at the rim, with Chicago offering little resistance against dribble penetration.
The Rockets recorded 20 points in the paint in the opening period, the foundation of their 60.9-percent shooting in the frame.
Harden led the early onslaught by converting all three of his attempts in the restricted area on his way to 15 points on just seven field-goal attempts.
Houston extended to a 38-19 lead with a Gordon reverse layup inside the final minute of the first quarter, but the Bulls managed a rally in the second.
While Houston managed only two baskets inside the arc in the second quarter, LaVine and Parker carried the Bulls back into contention. The duo combined for 24 points by the intermission as Chicago clawed back to within seven points.
LaVine added a buzzer-beating jumper to close the half, and when Parker completed a three-point play at the 8:49 mark of the third, the Bulls trailed 62-58. Harden then resumed his dominance, and Houston pulled away.