SmackDown's top singles title has changed hands days before Survivor Series in a dramatic late turn of events.
After holding the WWE championship for 371 days, AJ Styles was dethroned by Daniel Bryan, who will now go on to face Brock Lesnar in the champion-against-champion match on Sunday night.
After a disagreement earlier in the show about respect, the pair squared off in the main event with the title on the line.
Bryan came up short a fortnight ago but would not be denied a second time, winning the championship in controversial circumstances after a running knee strike which followed a low blow with the referee's back turned.
The newly-crowned champion then stamped down Styles in a vicious and prolonged post-match attack.
After The Miz added Jeff Hardy to the SmackDown Survivor Series team, he suggested removing Rey Mysterio, clearly still bitter about Mysterio's defeat of him several weeks ago.
Mysterio, never one to back down from a challenge, agreed to take on Miz with his spot in the line-up at stake and won through with a unique roll-up to preserve his place in Sunday night's team elimination match.
Rey would have little time to celebrate, though, as Randy Orton appeared out of nowhere to attempt to blindside him. Mysterio evaded the attack, but Miz wasn't so lucky, as he felt an RKO from out of nowhere after bumping into The Viper.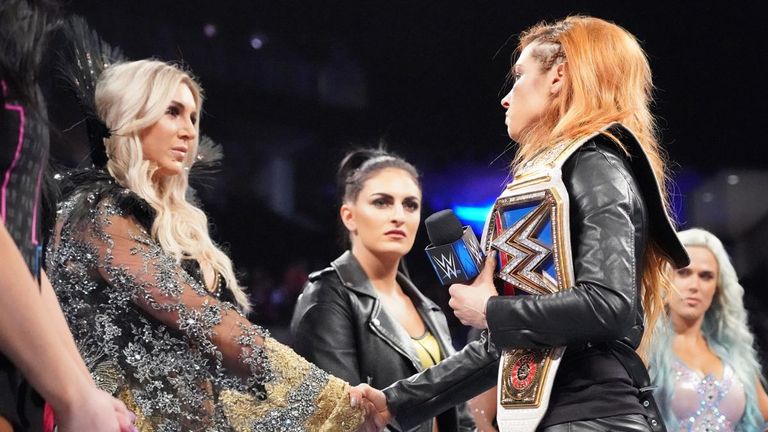 Lynch out of Survivor Series
Becky Lynch confirmed her withdrawal from the Survivor Series interbrand head-to-head clash with Ronda Rousey due to an injury suffered in Monday night's brawl with the Raw roster.
Lynch then selected her replacement, and although Asuka got the biggest reaction from the arena crowd, it was Charlotte Flair who was chosen to face Rousey.
No time frame is given for the Lass Kicker's expected time out and it is not known at this stage whether or not she will be forced to relinquish the SmackDown women's title.